Yes, after ten years in the west Texas scrub lands, two of the best houses ever created by Tiny Texas Houses are back on the market to find new owners after their cosmetic makeover.

JUN 4, 2023
Original post and access to be a bidder or a buyer of these two houses come at the price of a paid subscription. Are you interested in learning more? Read on. How could you own such a home, have a place to put it for a decade or more, and move it later after paying for it with write-offs against taxes by our governments? Loopholology is the path I choose to get a tiny house in Texas that you can not lose on for a lifetime of satisfaction doing what is right as you go along. Did you know in Texas if a BnB is portable, there is no 15% tax for the nights? It is not a house by definition under 400 sq ft. Thus, you get to depreciate it in 10 yrs, not 28 instead, and can sell it off without the land, as you will see and understand if you choose.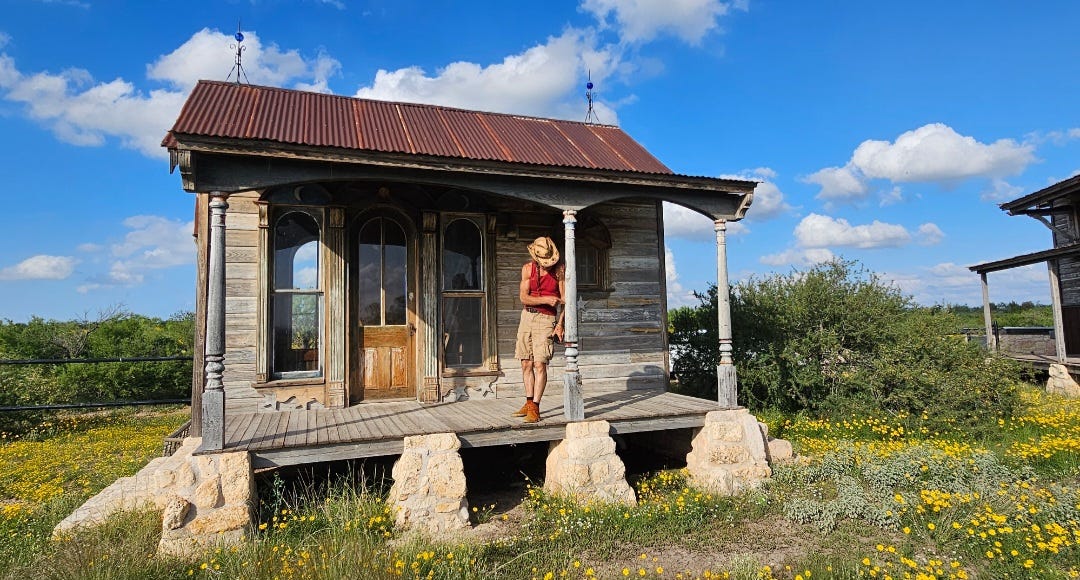 Yes, the makeup faded in the sun on the girls that went out West and won the hearts of those who stayed inside their bosoms to dream for days. They have been staying in, but no one has lived in them full time, so a decade has been very kind. They need new paint. Yes, makeup helps when you have incredible storytelling eyebrows like this Rare Cowgirl.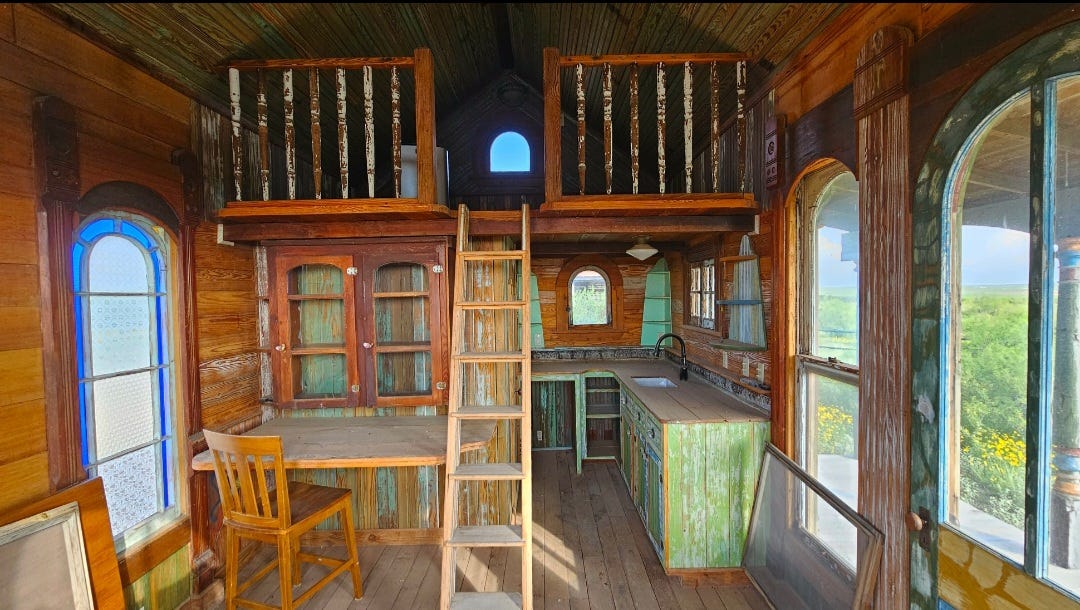 She's a Texas Cowgirl with a flair and confirmed, a patriot like few have known, for she proves it with Red, White, and Blue, besides the fact she will stay true. Is this the tiny house for you? The House of the Rising Sun is due for a change in homestead that I am about to do for the right new stewards of not just one Art House but two. Made as a set, I hate to break them up, but wii may do if the situation calls for it. Then that is what we'll do!
Sadly, she has been in waiting for a bit too long as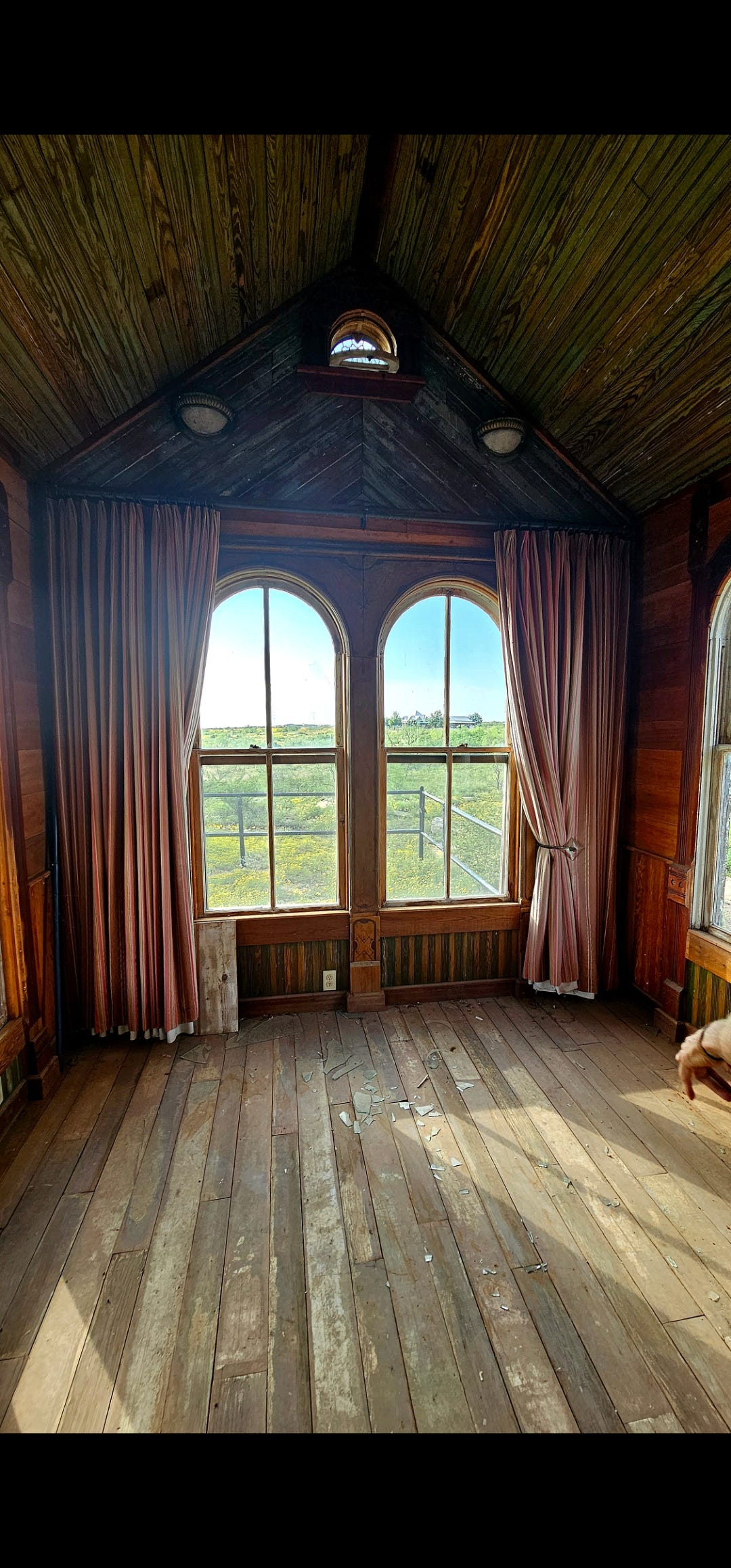 I hesitated through the winter and waited, but a storm did take its due. A broken glass, a bit of water, Dirt, and dust but no webs or wasp nests. She can be brought back to life and, for a hundred years, do right, but first, wii have to pack her up and truck her to a brand new spot.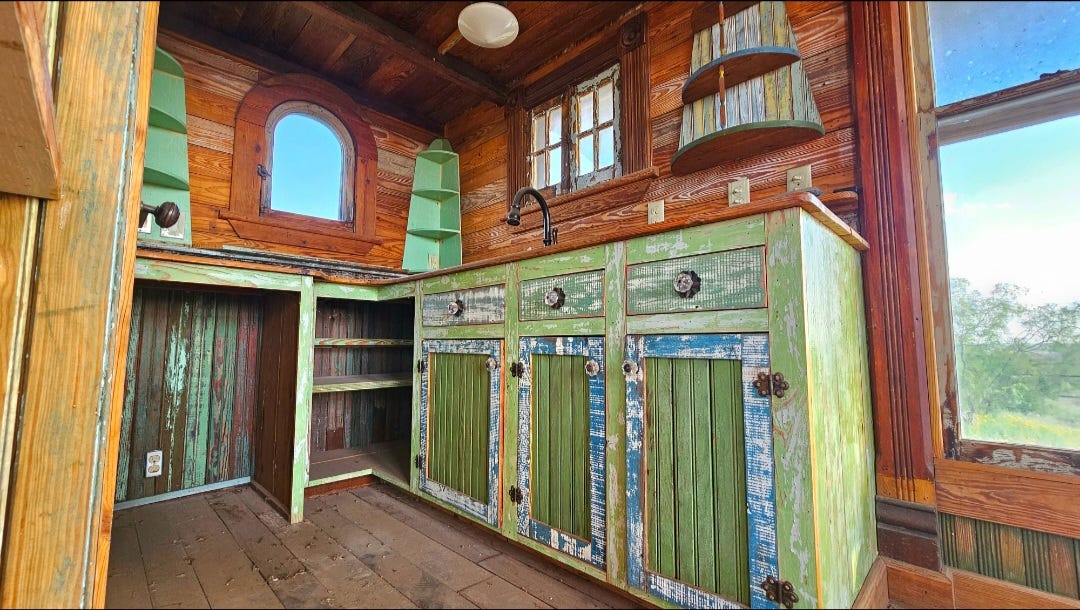 Yes, she needs a bath and oil, a massage you might say she'd enjoy. A bunch of Hemp oil on her wood, and she will light up bright as she should. After a decade of neglect, she still looks good and will last on a century or more in style if we move her a few hundred miles. The beauty of a transportable home is that it can still move and roam. Not tied to wheels but can be on while cruising down the highways on special trailers made for this job and people who know what it's about.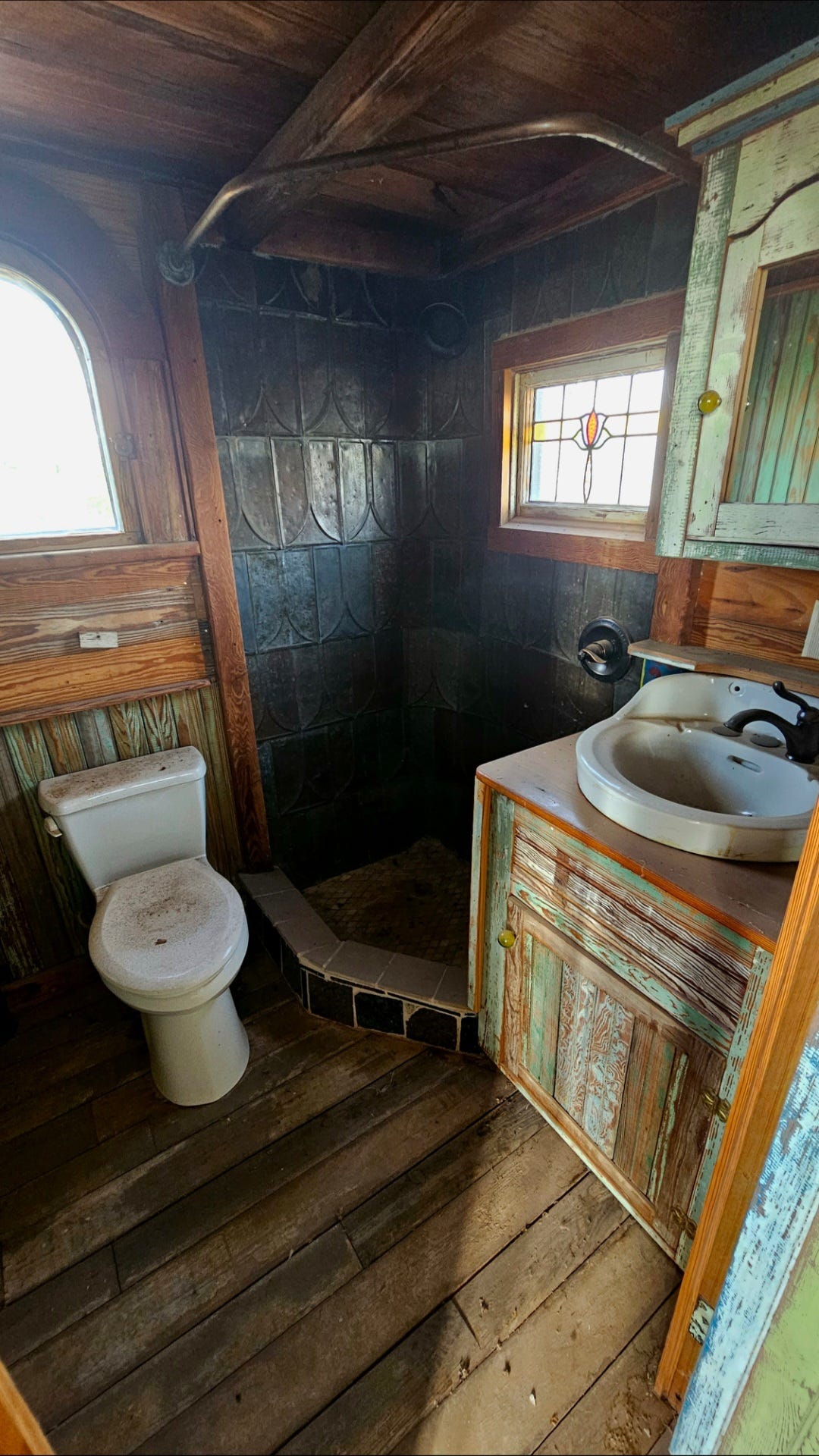 So dirty, but not deep down where wii can not go in and clean. Oil the floors so they will swell and fit together oh so well. See the colors and the grain. Milk paint lasts, and oil holds it in.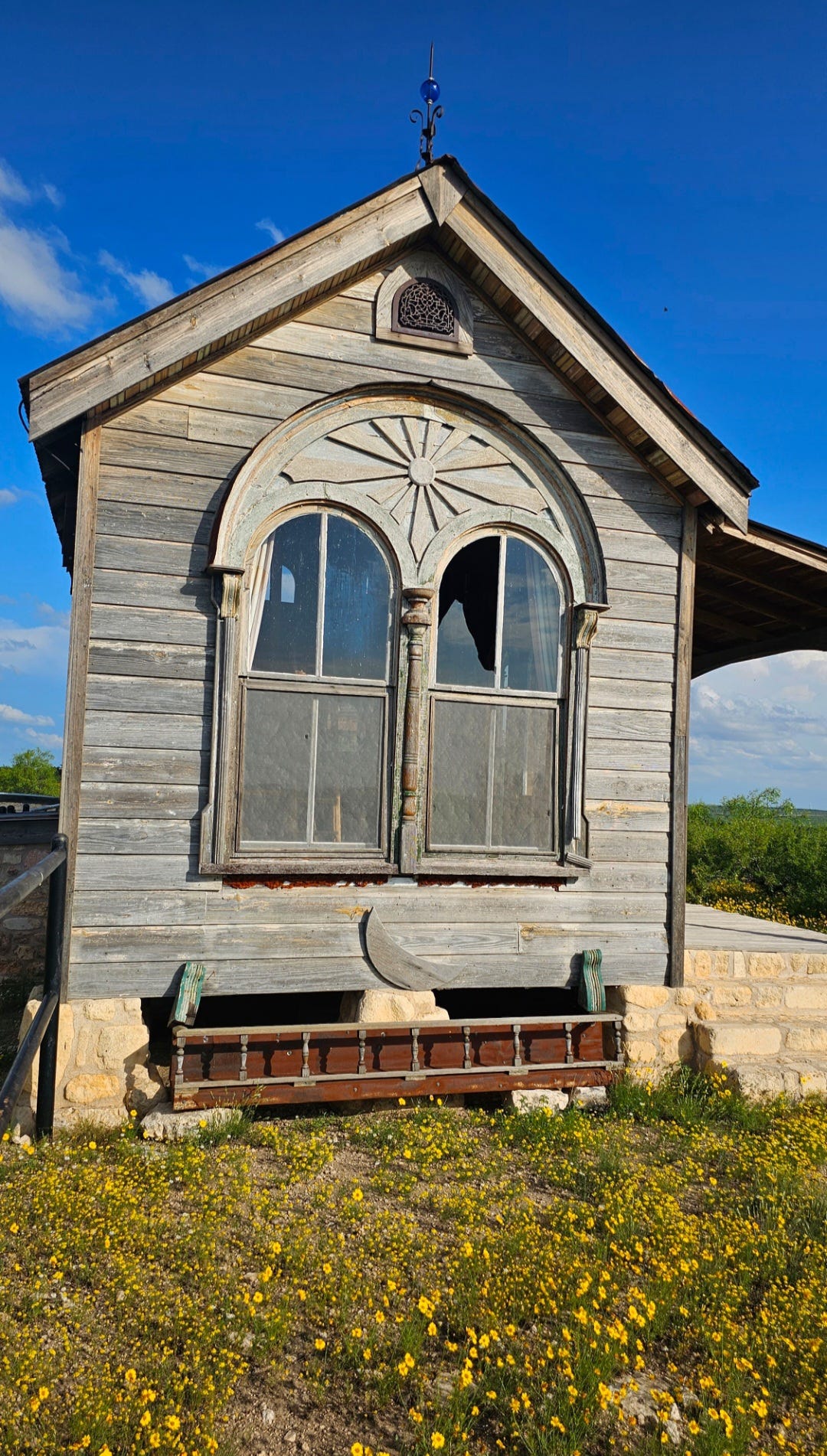 The paint faded after a decade in the desert sun, yet the wood is fine. Cypress and the Long Leaf Pine are good for several hundred years, but these need oil and paint again to bring her back to life, my friends.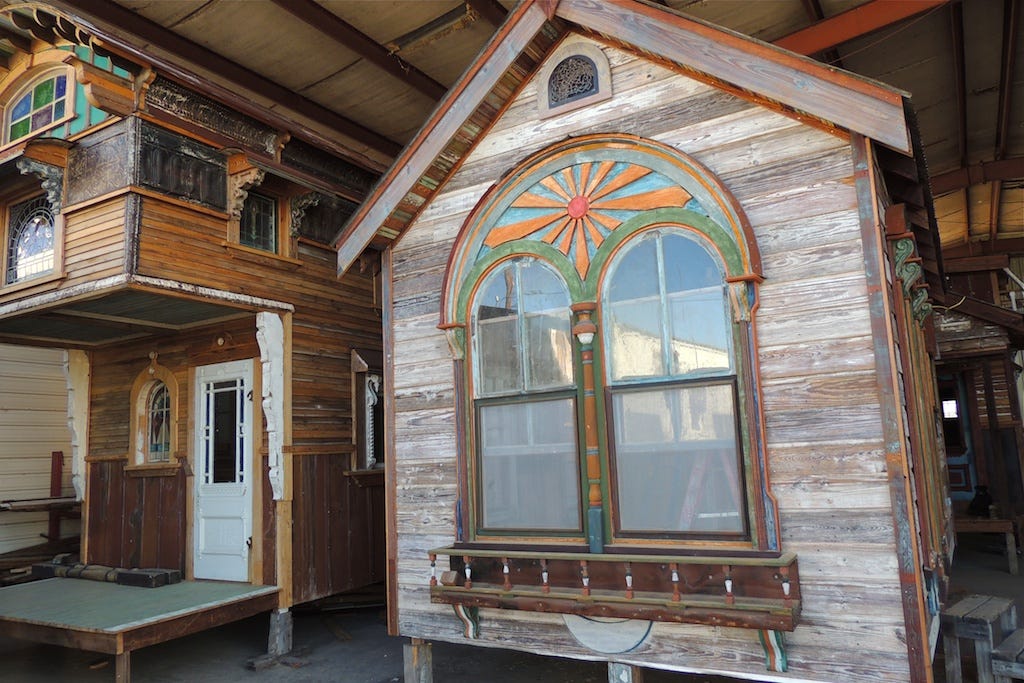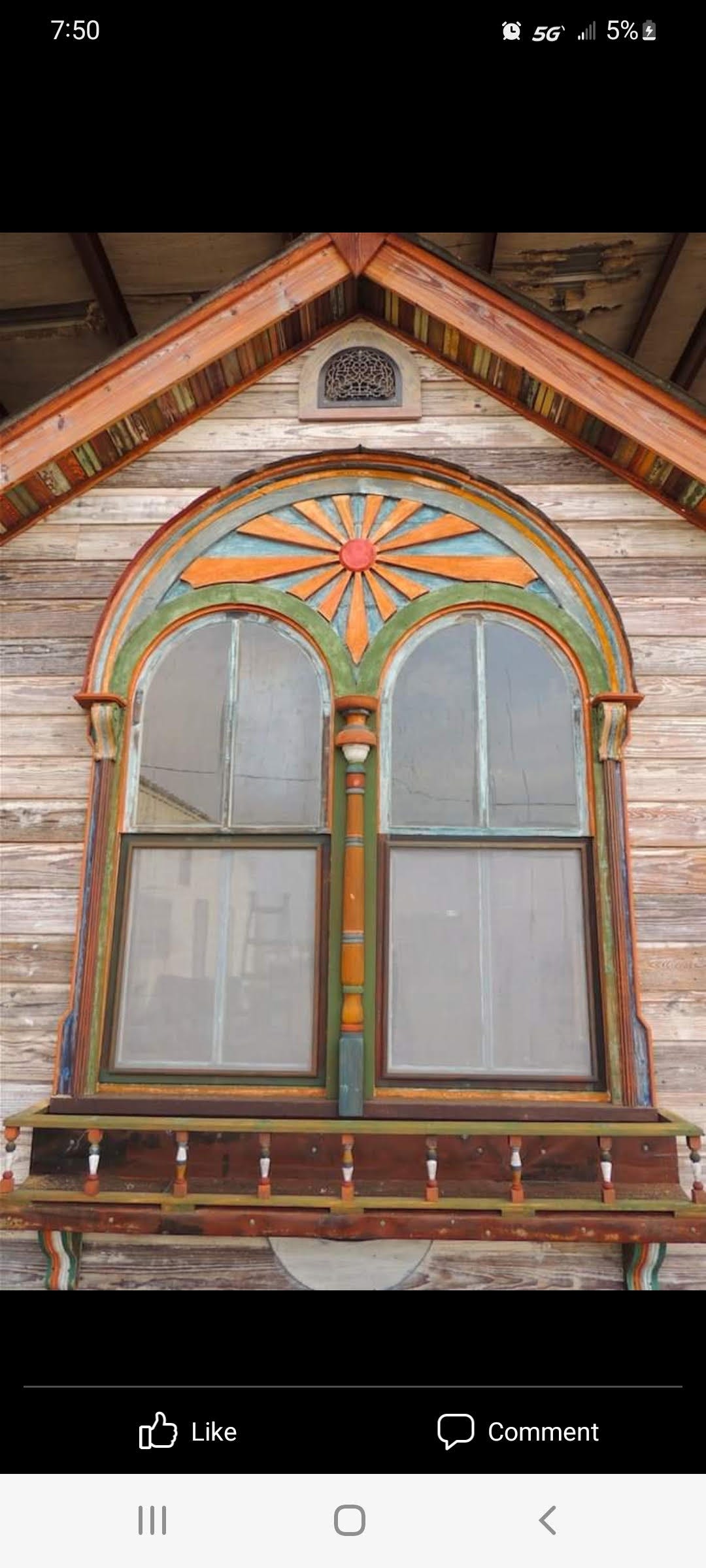 It's been a while since she left home. Like the Tantra Temple shown here, they have lived a great life to start so far, and now this one has a new life in store. Who will the owners come to be? Perhaps that could be you or me. I am trying to bring home my babies, who once had to roam. If I can get the money here to keep them in Salvage, Texas near, I will do that, or if you want one here, contact us. It could happen this year.
Otherwise, if you wish to surmise if you can afford to buy one of these pride and joys of mine, they came from my imagination and heart energy as they were created at a time when I was feeling the loss of my son and watching this great nation fall. I once had the workers and the will to do these things that I can't do still. If you want to know how to get a chance to buy, how much if you were to bid and try… get a paid subscription, or you can't afford them, and for now, it does need to be an answer for just gossip. Later… now speculation.
What is this house worth to the buyer? We will learn soon.
Variables include details in packing based on the potential to have them also repaired, restored, or just delivered straight to you and worked on there. Let us know before to get an estimate and bid to buy if you wish. For now, all options are open. Once they get here vs. "as-is," and of course, the costs of transport to deliver and set up, that is a separate matter.
For more information about the sales price… subscribe.
Yes, this will cost start bid on the House of the Rising Sun aka the Arched Zebu starts at the TinyTexasHouses.substack.com membership site where you have a paid subscription and access to this fast exchange of interest and value. See you soon I hope, especially if you wan