Truly the rare chance to get 3x your money with a giant "$50,000 April Package" of beams, windows, doors, floors, and much more extraordinaire lumber too.

Limited time but great article to read even after… as it just shows you the stuff!
An entire chapel from the border of Iowa that was built in the 1800's waits to become a chapel again. In the next series of pictures, you will see some of the treasure I am looking to see in the hands of creators not still owned by me. Big opportunity for others to grow. My contact is at the end. Let me know.
Trim from UT College, educated Walnut and other types of smarter wood, refined, detailed, trim, and able to survive for centuries.
Doors from the monastery in the King William District of San Antonio, once a convent and a hospital, a place with memories galore, and the doors with their thick jambs are perfect for having bookcases surround the entry to a library, even vented doors.
An entire house of jambs and doors, even the transoms to put together an authentic 1890s house for a set or to live in, movies or more, real life.
Imagine what the pair of these would look like on the front of a house… if you can, a tiny organic cottage in the woods done in Victorian with a turret perhaps?
Ugly door but on its side a great lower paneled wall or ceiling, since I have twenty of them.
How many doors to fill a semi-trailer? 800 and these came from St. Louis long ago.
Newer doors for a porch with the double-paned glass, two sets from a great house with 35 colonial paneled doors and Schlage hardware, even hinges, the high dollar sort, handles for doors too… Ready for a quickie for you.
Incredible screens made with virgin Cypress, all mortise and tendons like no one does these days, trees that were 2,000 years old when cut, and the screen material is still good on some sets. Great for closing in a porch, a greenhouse, or your own tiny house… compared to the cost of metal garbage screens of today, not much difference in $, $50-$150 each and some are 6' tall, for 50 times better results, looks, and longevity.
Guess what these rolls of doors are for, yes they are roll-up wooden doors used to divide a large room like pulling down a garage door but in wood. Dating with the original hardware, sides and all to work again, from a church in Iowa from 1886.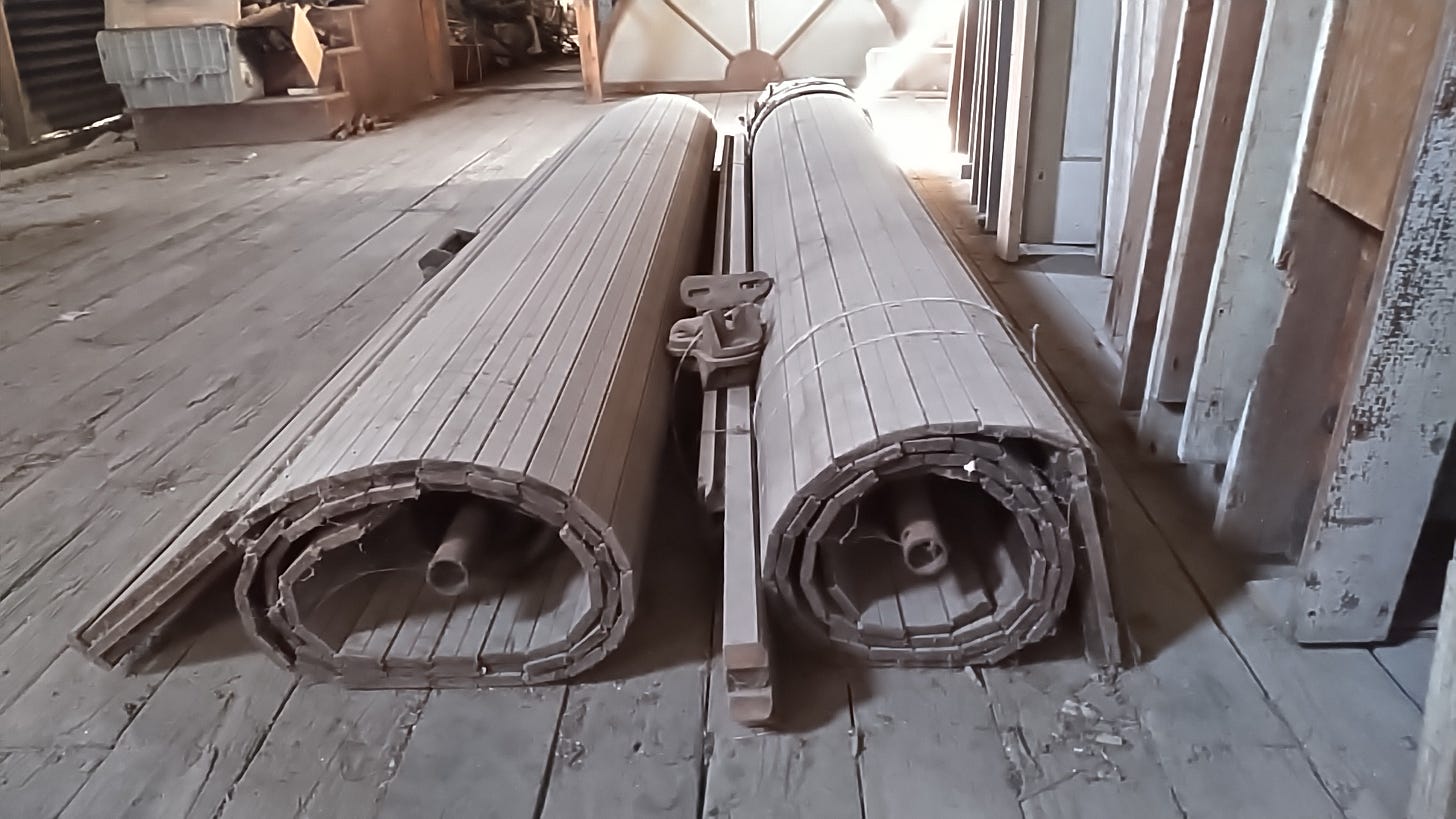 Doors, jambs, transoms, and all the hardware you can imagine of the highest quality too if you can afford it.
Just a glimpse for the big boys that might be looking to expand, the merger of my inventory and facilities with someone big who still wants to play the game of business, employer, and taxpayers too, I wish to be done with it, how about you? Paid subscribers can see how to get hold of me and see what Wii can do for you.
Yes, I am searching to merge, and sell some land, buildings, and massive inventory to the right players. Please share if you dare or know someone who might care for the treasures I have stewarded for more than 40 years. If the right people come along, now is the right time for many to find success and happiness in the world of Pure Salvage Living. Are you one of them?
Brad Kittel to be reached for questions and serious buyers… [email protected]