That is what is possible for a few great people with the financial strength and timing to leap into a dream that will not end before your life is fully lived well.
| | | |
| --- | --- | --- |
| | A Very Special Limited Time and Numbers Opportunity for those with perspicuity. | |
Be a part of this sunset, living, breathing, swimming in my imagination as wii create tomorrow.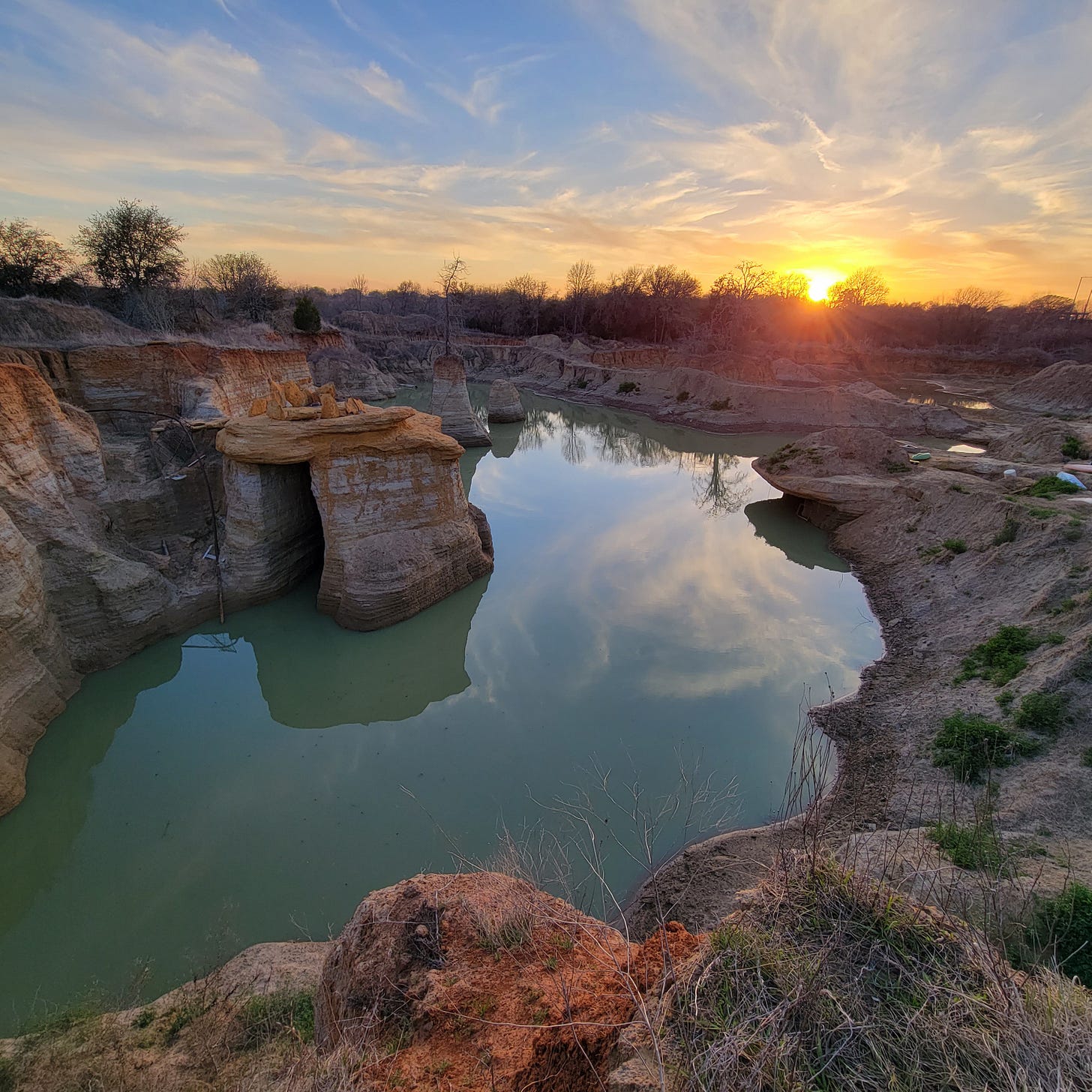 Besides the incredible canyons, water, food jungle, and green trees, sunsets are great too. Giant Pecan trees on one side, water to grow with, soil that will provide food, a location that can be developed and provide good income while also providing space for nature to grow at the same time. This is a form of remediation on one end and catchments for the acreage to drain into, settle and move on if needed to the San Marcos river that is only 1/8th mile away from the border of this land. Ponds, caves, paths in the woods, places to swim, kayak, fish, and canoe are already in place.
Now for the next phase… developing the 27 acres or original land allocated for parking, commercial development, and the additional houses up the creek to the highway 80 end of the property. Its all ready but a couple of last changeouts on letting some new blood in have created an opportunity for change through growing the community where they feel vested, own a piece, and have a great guaranteed instant profit of 4x their money in vintage building materials if they choose to sell out their interest.
Yes, you get 3-4 times your investment in vintage architectural lumber and materials, whatever your reason… as in profits… for tax reasons, instead of waiting to cash out when commercial lands are sold off or through getting a tiny house or two builds just for you. Yes, that is an option so you could live on this land for life as well. Imagine, paradise instead of a trailer park with tiny boxes on wheels parked all about… looking just like a tiny trailer park, not a community hidden in the trees, with ponds, food to catch, grow in gardens, and be a part of exemplifying what could be possible as we age together well.
The water features are all man-made and will last for centuries if no Earthwide cataclysms come to fill the holes with sand or volcanic ash. Otherwise, there are many great ways to grow this property as it is in a key location just south of Austin, east of San Antonio, and west of Houston out of the real flood plains. The land is on IH 10 with enormous traffic counts and the ability to become a great intersection as it is one turn from my door and straight lines on highways to the three best cities in central Texas with over 16,000,000 people living in them, thank God not here. Still, real estate, for the most part, is skyrocketing and the acre price off-highway is over $50,000 an acre so this is coming to us, 27 acres into the partnership for under $500,000.
The small bank of extra funds will be there so we will have some dry powder to do the work of setting up some income from tiny houses and cottages as income from the BnB as well as selling them to investors for the write-offs and income they can make which is far greater than a bank or other investment that is just paper. With tiny houses noted as portable buildings for tax reasons, no BnB tax on them, and thus the ability to pay 5% or better out to owners to lease them, give them personal time in them each year, a write-off to come to Texas to service their tiny business here, as well as a possible residency if others want to dodge income tax in their other state.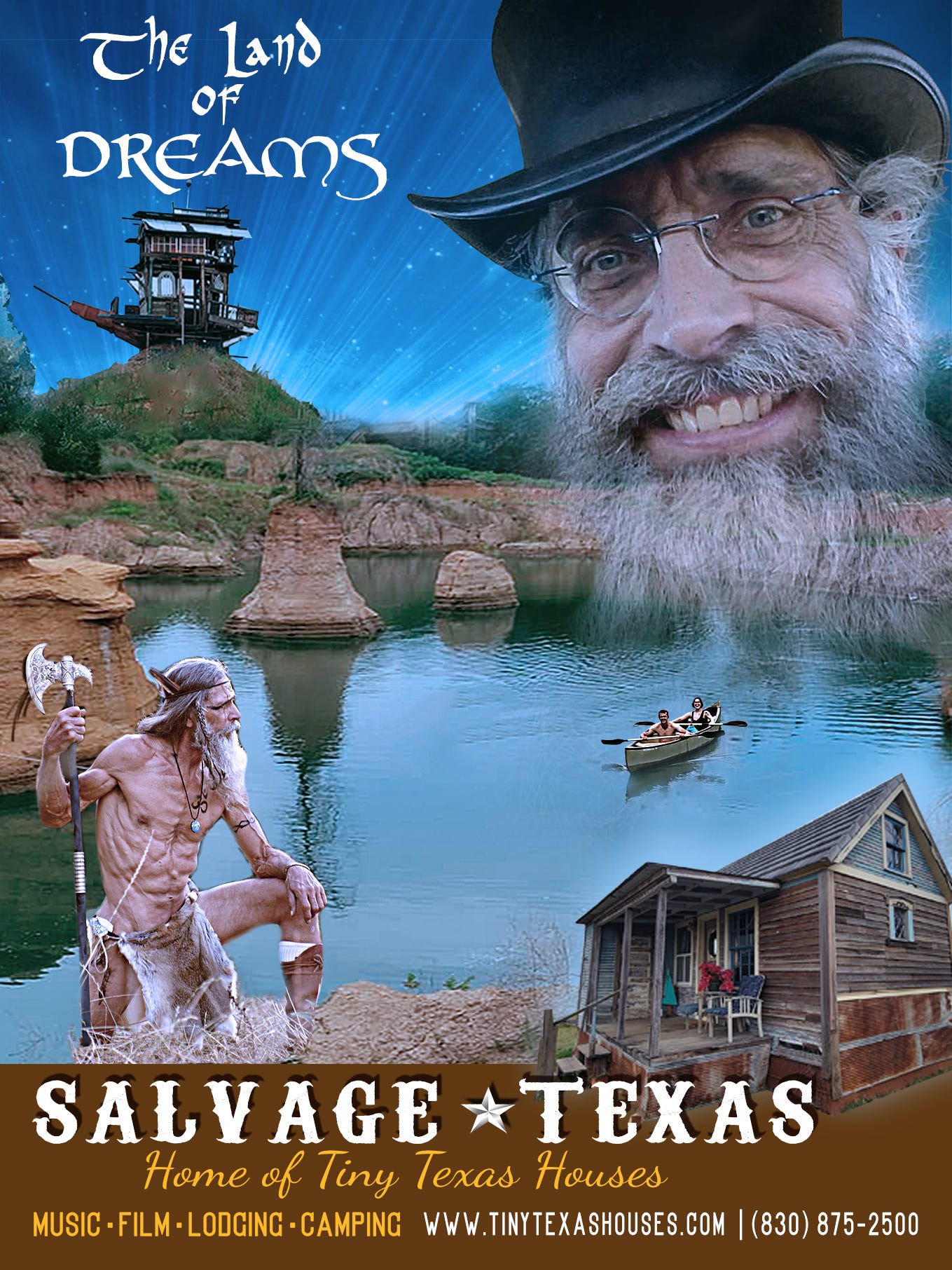 Here is a survey of the tracts involved that include one lot on Hwy 80 with the other for 500' of frontage that will be used to go around the houses on the Hwy that can not be developed further, as is the case for the old gas station, without buying into some of this land at the rear for access. Highway regulations have them trapped for purposes of getting semi-trucks in so close the corner of the interstate. The sale of the lands on the frontage will pay back the entire initial investment if sold off for commercial development or if the right investor comes along, develop for a common benefit business that could go there. One of the primary partners has bought a bar/restaurant that will be linked for the BnB and music events, catering if needed for events in Salvage, Texas too.
The potential for development, training others to build tiny houses organically and without imports will enable many to go off and have careers, start other intentional communities, and give hope to those who are nearly running and can do something to change that if they believe it is possible. We can be the example and make a good income to support it with the massive inventory of materials to not only build out but to sell to others and fund our growth. New investors or partners will be unnecessary if we can tap the sales and plow the nearly pure profits back into this very large-scale impact but the tiny project in the scope of funding required.
I do have other big projects but they can be funded as we succeed and make decisions with the key new investors having some input and voice to hopefully grow this faster, making Salvage, Texas an embassy for new ideas in off-grid living using the Pure Salvage Living Renaissance as a theme. This makes it an eco-tourism site as it has already been growing its reputation and following around the world. This will allow us to grow it further and wider with the publishing and seminars that could be done online now as well as here. Each seminar nets another house for the land… thus income to the group. Please consider how you might fit into the scheme of these incredible things that can be done now that all the materials, land, and the societal need for solutions without the global distribution network due to the turmoil and problems uncovered during the CV crisis and economic transformation of our country that the weather will exasperate even further as the solar cycle continues to alter the weather on Earth, as well as other issues ahead.
10-18′ deep waterways form a moat inside the perimeter walls, almost as if it were an Earthen fortress upon a hilltop, with all one needs to survive inside the walls… or so the fantasy goes, come see what might lie in store for you if you wish to try.
From the early days before the holes were dug, the streams, wildlife like beavers, otters, and more that live here now. Join us in growing this to be the most incredible stop on IH 10 to spend a night or weekend in the USA, the natural way.
The tracts depicted in yellow and dark blue wrap around the main office called Salvagefaire where the events can be held on that acre with full utilities. The electricity for the 27 acres, as well as water, is available and part of the land has been annexed, the part we want to sell off at the corner wrapping the old gas station that is for sale too, by Circle K, with many restrictions against all things that compete with them.
You can see the building as the main facility is on a separate 5-acre tract and has a well for water besides what the city can offer. All the tracts within the yellow lines would be what makeup Salvage, Texas, and the 10- $50,000 shares equal about 2.7 acres of undivided interest each which are secured by vintage materials at a 3-4 to one conversion if you choose to sell out your interest for an immediate profit.
There is about $10,000,000 in inventory to cash out from which could be done partially or in whole if an investor chooses. The shares would go back to Pure Salvage Living as they would be paying out the investors with the inventory. If the property is sold in part and thus the partner bought out for double or triple the initial investment, the partners will split the share bought back in accordance with their present percentage of ownership based on the initial buy-in or later buyout of other partners.
Here is a shot of the canyons being created by Darby for his 64 birthday present to himself. It took two months working solo, no grease monkey or fuel jockey other than Trinity and I. It is into the water table beside the rain, well water, and other sources God provides from the Earth itself.
Fish, turtles, wildlife are all about, and now food that will be growing around it as well. Even with the present drought, we can not run out.
I hope this helps illuminate the possibilities for you and that you can move swiftly to decide if you might wish to be one of the few, as few as possible for me to grow this dream for you to maybe take over when I am gone. Please share and if you care, let us know how you could make this plan for a better future come true. For more information, contact Brad@tinytexashouses.com and lets talk. Savor the days.