Merry Days ahead regardless of the container ships getting offloaded instead, the packages to help your dream home materialize in 2022 for YOU!
Where would you start? How far do you go to create that Art House that you want to call Home? Can you just get the charm and the style you see from the big box store in the big city? NO! Can you get it on a trailer to pull from sea to sea with a tiny little truck and your sweet young family? Not likely. Then why oh why make a house for thee that would likely sit there for the life of me and last until your children go and leave it to the grandkids too? Why not build it well the first time just like all our ancestors did? Create a tiny home worth keeping and in handing off when done.
From the wooden floors and the ancient wood, the hardest type and cured so well. This is definitely overkilled but was built to go on the highway at 70 mph. Hand-cut shingles done by Darby (cause no one else would do them right).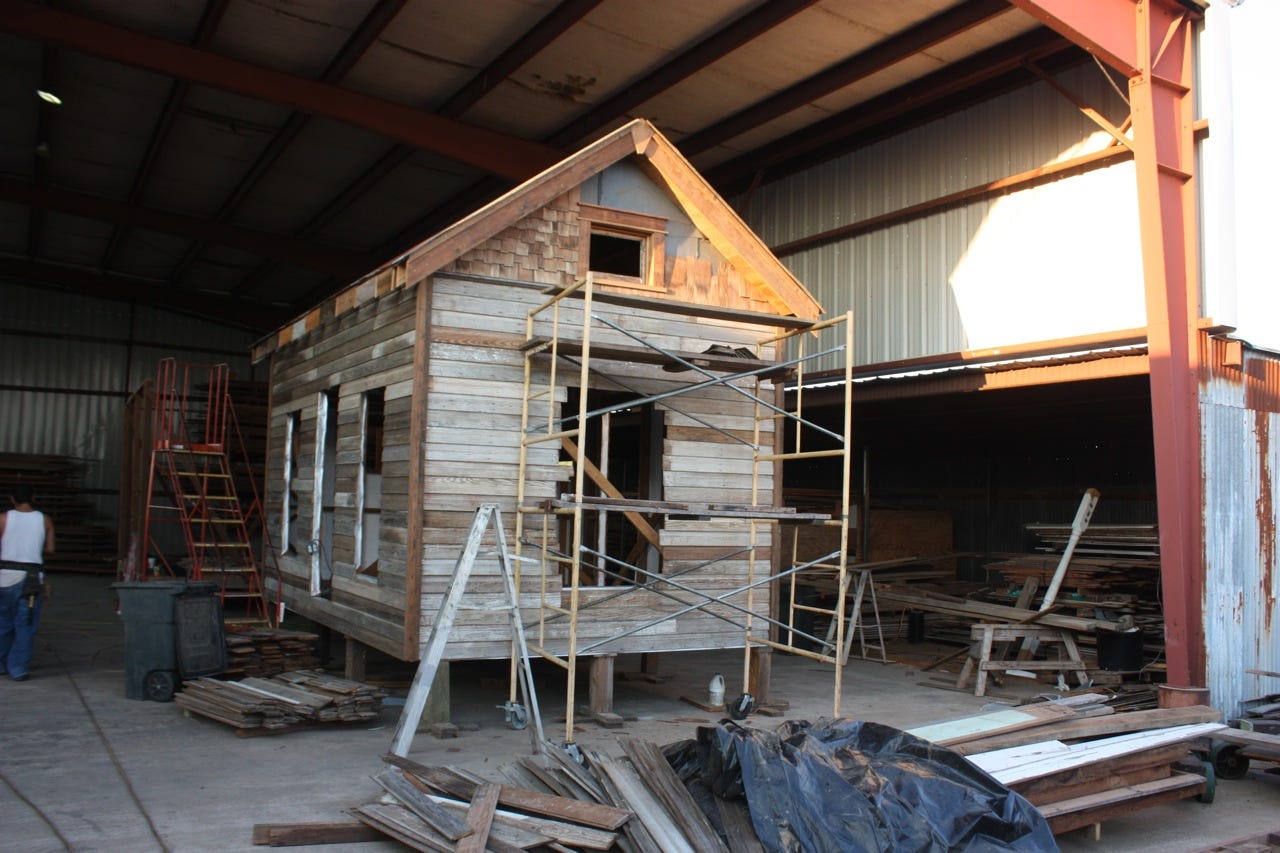 This is a later way of framing than we did with the original Vicky Won and I like it much better.  The floor joists are set into the beams so as to gain 7" of interior height and you can see the corner truss system that keeps it from slipping out of square on the highway. One corner is still not done where you can see the standard was 16" from the wall to brace well... then cable through the top ridge rafter and down through the beams on both sides to tie down in case of tornados or hurricanes... winds are worse than I thought before a tornado tossed the original models about 5 days before grand opening.
Vicky Won was a front entry instead of a side entry. There are virtues to both styles.
The Kidd took this to the extremely small size of 63 sqft on the bottom floor but had much to share.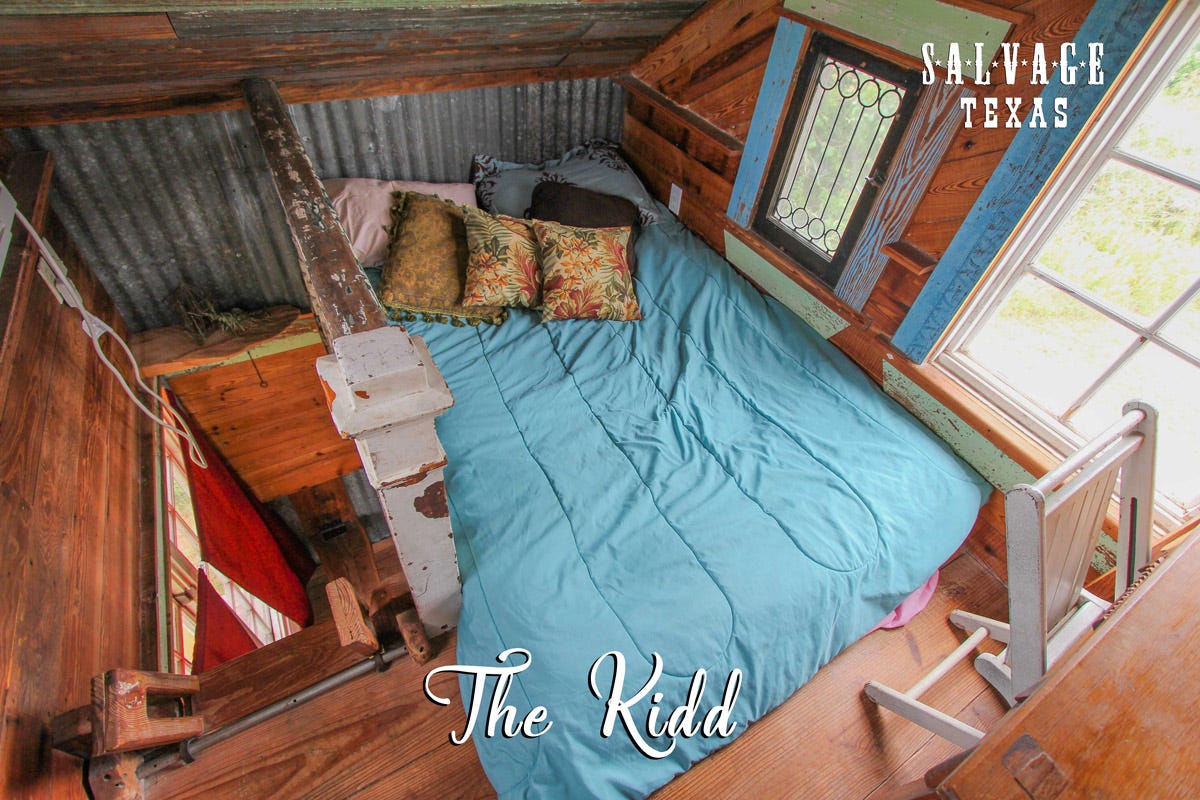 Swedish Organic Linseed Oil Paint is supposed to last for 50 years. $42 a pint!
Many variations of what we can do and put together a few great tiny houses to populate our woods, our ranch or farm away from the city where simple can have charm.
The Arched Zebu was originally named the House of the Rising Sun. I like that name better but it is out in West Texas with its sister… Vicky Zebu.
Yes, we do still have some arched window sashes in stock and a few great stained glass pieces left, but not enough to create many more houses as incredible as this one is.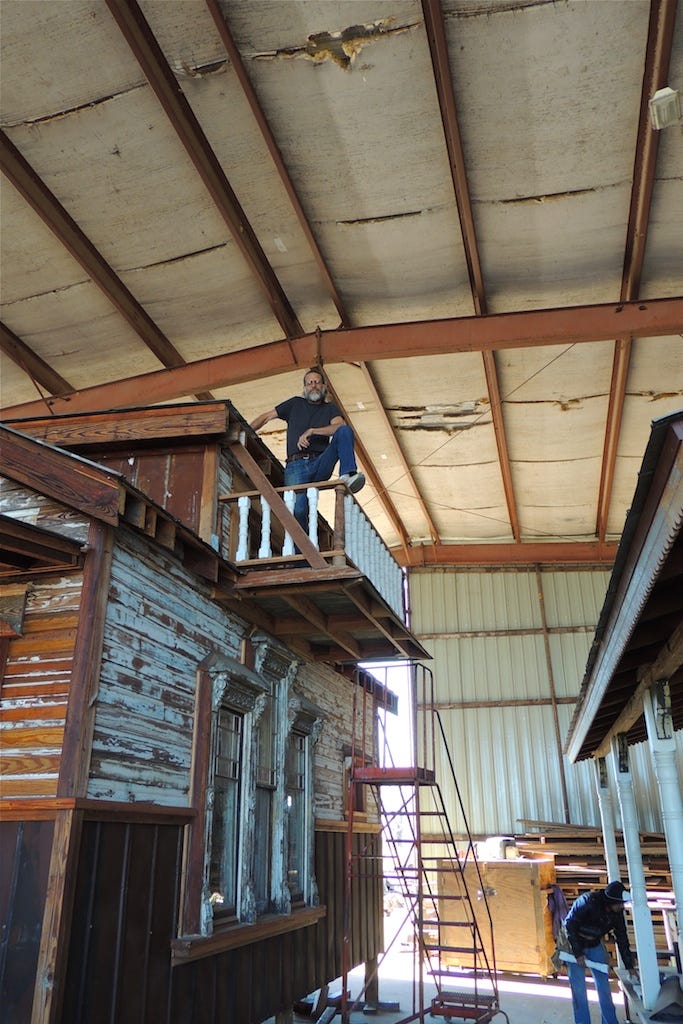 Imagine the material package with nearly all you need to create a tiny house like this instead of a mobile home and know it could last a lifetime or more, just like it did in the last house it formed after being a tree for a thousand years. Vintage Lumber is beautiful and unmatched in strength, resistance to rot, bugs, and wear. Why not give yourself the best in a tiny format you never have to worry about not being able to heat, cool, or afford when you get much older.
If you want a package for a house like this it will run about $11,000 for Vicky Won level of house, nearly all you will need except screws, nails, underlayments, insulation, and wiring if you like. Otherwise the SpaceMagic custom designs with the parts you pick and help from afar to guide you as you form your sustainable tiny Jewelry Box Art House and live the dream. Labor not included.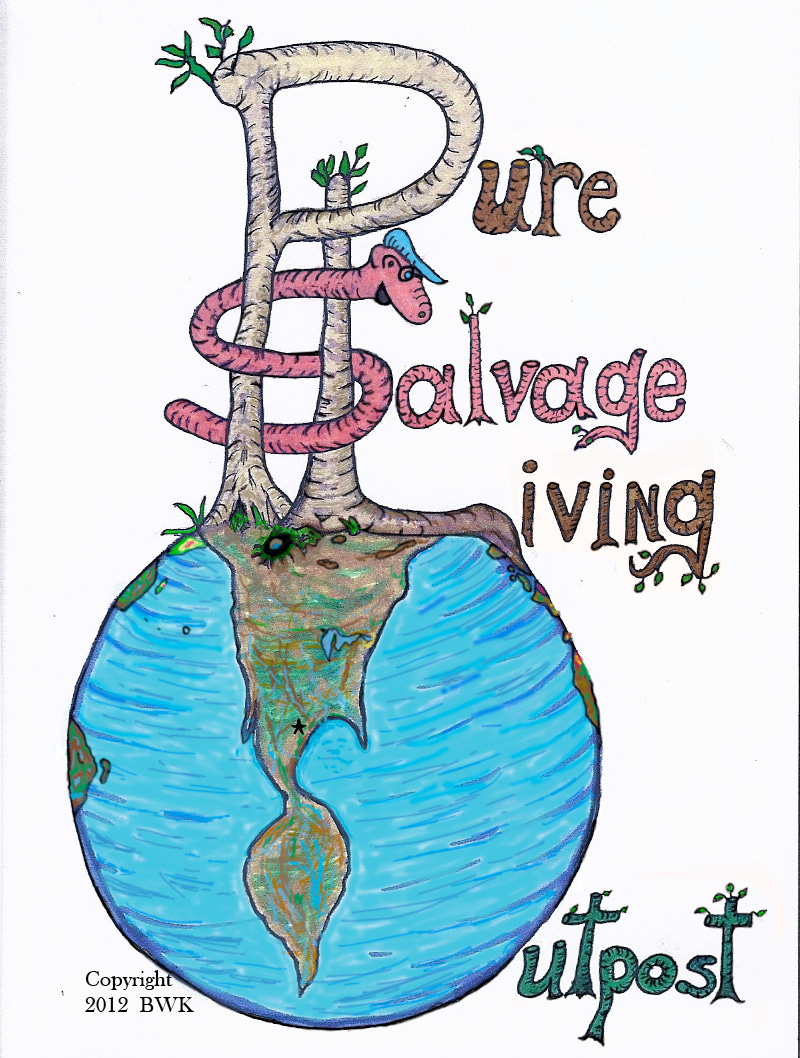 Tax write-off while you work, retire in it once it is paid for by the income from the BnB and tax write-off that leaves a house in your pocket virtually for free.
My sweet BabyDoll on the porch, may she rest in peace near our home she spent some years in before moving on.